I was thinking the other day about interviewing as we just recently finished a round of interviews for an open position we had here at the library.
I thought I would share information you should know. How you present yourself is important. Do your homework. Know something about the business, institution etc. that you are applying to for a job.
To that end I have several books that I think would be great to look at before you interview. Also, the amount of information on interviewing can be overwhelming on the internet.
What I find when just asking for interview tips is that the majority are for businesses. Not that the information can't be adapted. It can. If you want to be more specific to your job, put in information such as teacher interview questions to get a narrower field of possible questions. Keep in mind an interviewer could ask anything and not necessarily the questions you find online or in books. The information is to give you a heads up and to prepare you to start thinking about what could be asked so you are prepared to present your best self to the interviewer. Although not always the case, in my experience the interview will involve a panel. So, be prepared to speak to several people at once.
Some good sites to view for general interview questions and tips to prepare for the interview:
https://www.businessnewsdaily.com/9728-interview-guide.html
https://www.trade-schools.net/articles/job-interview-skills.asp
Some really good books are also available at the library: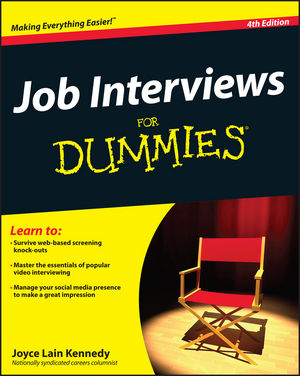 Job Interviews for Dummies by Joyce Lain Kennedy (650.144 K383j 2012). I have to admit I hate the title of the "For Dummies" books, but they give solid basic information that is easy to read and digest.
The Job Search Navigator: An Expert's Guide to Getting Hired, Surviving Layoffs, and Building Your Career by Matt Durfee (650.14 D934j) Searching for a job has to occur before you can interview. This guide will give you tips on how to do that as well as interview questions.
60 Seconds & You're Hired! by Robin Ryan (650.144 R957s 2016) This is a great title but it is going to take a lot more time than 60 seconds to be hired.
The Career Playbook: Essential Advice for Today's Aspiring Young Professional by James M. Citrin (650.14 C498c) Basic advise on how to get started and continue to grow in your career.
Don't Wear Flip-Flops to Your Interview: and Other Obvious Tips That You Should be Following to Get the Job You Want by Dr. Paul Powers (650.144 P874d) Very sage advice, plus a lot more.
Most of all, don't be discouraged. I interviewed at the same place four times before I was hired for my first ever job.
https://www.ecpubliclibrary.info/wp-content/uploads/2018/07/1_e2-97fB4FWk38bgAeRsAlA.jpeg
1499
2000
Renee, Reference Services Manager
https://www.ecpubliclibrary.info/wp-content/uploads/2019/03/library-logo-2019.png
Renee, Reference Services Manager
2018-07-09 08:00:06
2018-07-07 10:50:54
The Art of the Interview